Units 15-16
Ford Lane Business Park
Ford Lane
BN18 0UZ
Hire or Buy Today! Call 01243 555 720
Overview
The Leeb hardness principle invented by Proceq SA, is based on the dynamic (rebound) method. An impact body with a hard metal test tip is propelled by spring force against the surface of the test piece. Surface deformation takes place when the impact body hits the test surface which results in loss of kinetic energy. This energy loss is detected by a comparison of velocities Vi and Vr when the impact body is at a precise distance from the surface for both the impact and rebound phase of the test, respectively.
Velocities are measured using a permanent magnet in the impact body that generates an induction voltage in the coil which is precisely positioned in the impact device. The detected voltage is proportional to the velocity of the impact body. Signal processing is then providing the hardness reading.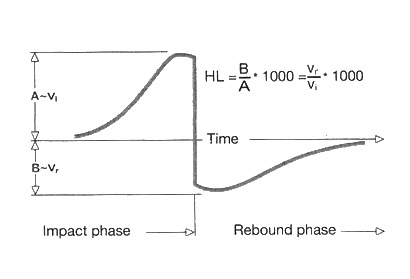 Proceq Equotip® Leeb
Leeb impact devices are best suited for on-site testing. The highly accurate ±4HL measurements are automatically converted to all common hardness scales (HV, HB, HRC, HRB, HRA, HS) as required.
Hammond Concrete stock the Equotip® Leeb 550 D which is the most commonly used tungsten carbide probe suitable for the majority of applications with an impact energy of 11Nm. The applications conform to ASTM A956/A370 and ISO EN 16859 standards.
Please call us or email us to discuss your requirements: 01243 555 720